Picket&Rail: Your Destination for High-Quality Solid Wood Beds
When it comes to finding the perfect bed that combines quality, durability, and style, look no further than Picket&Rail. Our commitment to excellence is evident in our wide selection of high-quality solid wood beds, renowned for their sturdiness and longevity. We offer a range of bed designs crafted from top-notch wood species like Walnut, Oak, and Hevea, ensuring your investment stands the test of time.
#1: Durable and Long-Lasting Solid Wood Beds
At Picket&Rail, we take pride in using only the finest and most durable wood species for our beds. American Black Walnut, known for its rich, dark color and striking grain patterns, imparts an air of sophistication to any bedroom. American White Oak, with its lighter hue and versatile design, complements various decor styles seamlessly. American Poplar, renowned for its stability and resistance to warping, ensures that your bed remains in top-notch condition for years to come. German Light Oak, celebrated for its durability and attractive appearance, adds a touch of elegance to your bedroom space.
We meticulously select these premium woods to create bed frames that are not only visually appealing but also built to withstand the test of time. Our dedication to using high-quality materials reflects our commitment to providing our customers with exceptional products.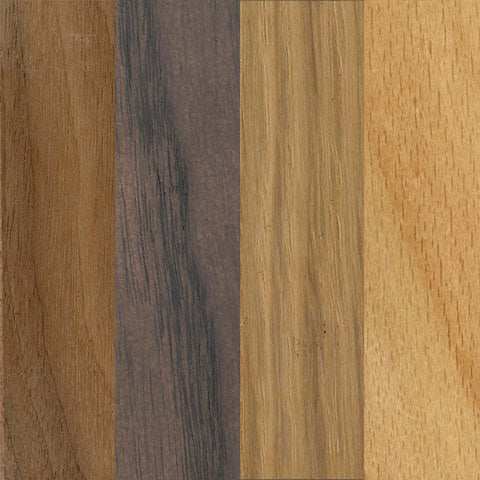 #2: Explore the Widest Range of Solid Wood Beds & Bedroom Furniture
At Picket&Rail, we understand that everyone has unique preferences when it comes to bedroom decor. That's why we have curated an extensive collection of bed designs to cater to diverse tastes. Whether you appreciate the timeless charm of traditional bed frames or prefer the functionality of storage beds, we have the perfect option for you.
Our Megastore showroom at 25 Tagore is a treasure trove for furniture enthusiasts, offering over 20,000 sq ft of quality furniture to view and experience. Feel free to explore various bed designs, each expertly crafted to offer optimum comfort and style. From classic wooden bed frames to contemporary designs, our collection has something to suit every discerning buyer.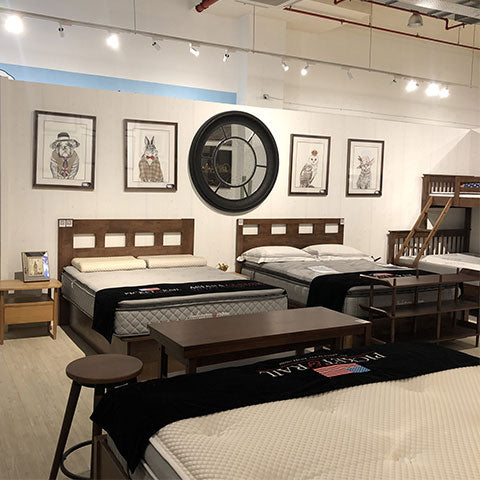 #3: Customizable Storage Options
At Picket&Rail, we understand the importance of maximizing space in your bedroom, especially in today's urban living environments. Our customizable storage beds, including the versatile Tatami storage beds, are the perfect solution for those seeking extra storage without compromising on aesthetics.
With over 40 different colors or combinations to choose from, our Tatami storage beds can be personalized to match your bedroom's decor and your unique sense of style. Moreover, we offer options to integrate compartments for a desk or wardrobe, providing a seamless and functional storage solution tailored to your specific needs.
Our commitment to customization ensures that you can create the perfect storage bed that not only enhances the overall look of your bedroom but also fulfills your practical requirements.
#4: Complete Your Bedroom Look with Matching Furniture
At Picket&Rail, we believe that a well-coordinated bedroom creates a soothing and harmonious environment for rest and relaxation. To achieve this, we offer a wide range of matching bedroom furniture that complements our solid wood beds perfectly.
Choose from a variety of matching wardrobes, nightstands, dressers, and mattresses, each meticulously crafted to exhibit the same level of quality and elegance as our bed frames. By opting for our matching bedroom furniture, you can create a unified and polished look that transforms your bedroom into a sanctuary of comfort and style.
#5: Platform Base Options for Added Comfort
A comfortable and supportive mattress is essential for a good night's sleep. At Picket&Rail, we understand the importance of a supportive foundation for your mattress, which is why we offer platform base options.
Our platform bases are designed to provide optimal support to your mattress, ensuring its longevity and maintaining its original comfort over time. By choosing our platform base options, you can enhance your overall sleep experience, waking up refreshed and rejuvenated each morning.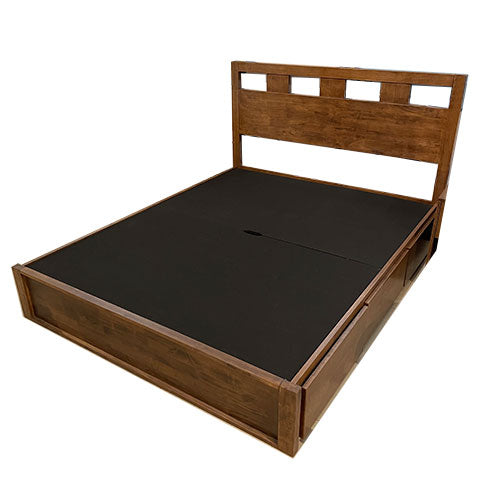 #6: Under Bed Storage Solutions
Incorporating smart storage solutions in your bedroom is vital to maintain a clutter-free and organized space. Our under bed storage options, including drawers, shelves, and trundle storage, provide you with valuable additional storage space, utilizing the often-underutilized area beneath your bed.
Whether you need extra space for clothing, bedding, or personal items, our under bed storage solutions offer a convenient and stylish way to keep your bedroom tidy and well-organized.
#7: Leather Headboard Wooden Bed Frame
If you desire a touch of luxury and sophistication in your bedroom, our Leather Headboard Wooden Bed Frame is the perfect choice. Crafted with genuine top-grain leather sourced from the best leather tanneries in Europe, this bed frame adds an air of opulence to your sleeping space.
The combination of rich leather and solid wood creates a luxurious centerpiece for your bedroom, making a statement of refined taste and elegance. This exquisite piece not only offers comfort but also elevates the aesthetic appeal of your bedroom to new heights.
At Picket&Rail, we are committed to providing the finest selection of solid wood beds and bedroom furniture. With our diverse range of designs, customizable options, and top-quality materials, we aim to create a bedroom that reflects your unique personality and provides the utmost comfort for restful nights and blissful mornings.
Top Bed Frame Questions